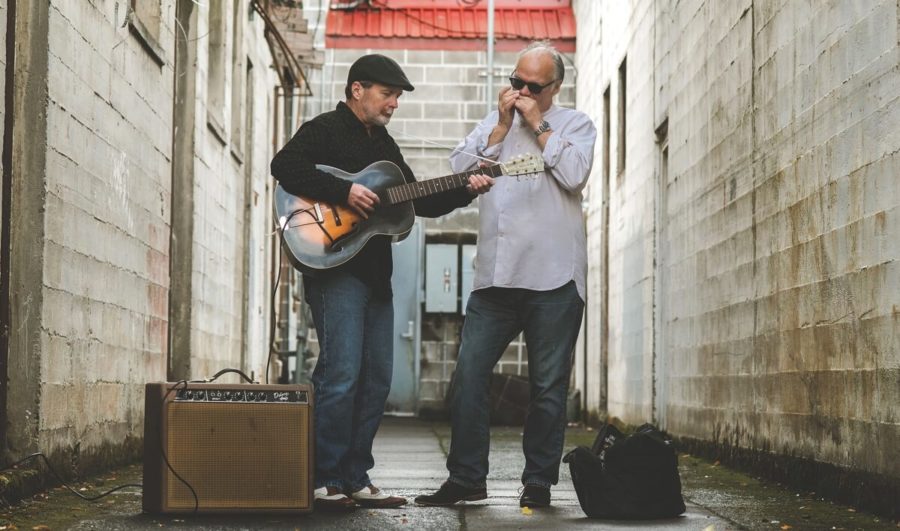 Award-winning soul, blues and R&B vocalist Curtis Salgado's earth-shaking vocals and forceful harmonica playing have been devastating audiences around the world for over 30 years. Guitarist Alan Hager has been wowing fellow musicians from his hometown of Portland, Oregon and beyond for decades. Hager has been jamming with Salgado since 2003, and joined his band full-time in 2015. Together, the two blues fans and friends took time out of their busy touring schedule to record Rough Cut, a stripped-down album featuring a potent mix of newly written, timeless originals and carefully chosen blues covers. "We did it for the love of the music," says Salgado. "This is where our hearts are. These are deep songs that we love to play."
That love comes through loud and clear on Rough Cut. Produced by Salgado and Hager, the 13 songs on the album (including six originals) range from plaintive to playful. Recorded in one live unrehearsed take, the original I Will Not Surrender, with its haunting and sparse soundscape, showcases some of Hager's strongest guitar work, and some of the most profoundly emotive vocals Salgado has ever laid down. The canine-lover's anthem, I Want My Dog To Live Longer (The Greatest Wish), is already a huge fan favorite. Salgado's soulful singing and Hager's elegant slide guitar playing shine on Elmore James' You Got To Move and Muddy Waters' I Can't Be Satisfied. "He's the best player in the business, unlike anybody else," Salgado says of Hager. "One reason I made this record was to show him off."
Born in Portland, Oregon, Alan Hager has taken a long and fascinating journey to his current spot as lead guitarist in Salgado's band. He first picked up a guitar at age ten and became a blues and jazz prodigy. He was playing local clubs as a teenager before heading to Boston's Berklee School Of Music, where he studied under the tutelage of jazz guitar legend Pat Metheny. A year later he was studying classical music at the famed New England Conservatory of Music, where he graduated in 1979. During the 1980s he toured as part of a classical guitar duo and took up teaching, which he still does. But he never fell out of love with the blues, especially the old Delta sounds of Charlie Patton, Tommy Johnson and Skip James. He moved back to Portland in 1988 and soon met fellow blues aficionado Curtis Salgado. They have been making music together since 2003, with Curtis' voice and harmonica and Alan's hypnotic guitar work perfectly complementing each other.
Born in Everett, Washington, Curtis Salgado grew up in Eugene, Oregon. By his early 20s, he was already making a name for himself on Eugene's bar scene with his band The Nighthawks, and later as co-leader of The Robert Cray Band. Salgado quickly developed into a player and singer of remarkable depth, with vocal and musical influences including Otis Redding, O.V. Wright, Muddy Waters, Little Walter, Sonny Boy Williamson I and II, Lightnin' Hopkins, Howlin' Wolf and Magic Sam. NPR calls him "a blues icon" with a "huge voice."
In 1977, Salgado met actor John Belushi while the comedian was filming Animal House. Salgado and Belushi spent hours playing old records, with Belushi soaking up the music like a sponge. He used his new blues knowledge to create the The Blues Brothers. Once Salgado joined forces with The Robert Cray Band, he shared stages with many of his heroes, including Muddy Waters, Bobby Bland, Albert Collins and Bonnie Raitt. He fronted Roomful Of Blues, singing and touring with them from 1984 through 1986. Forming his own band, he released the first of his ten solo albums in 1991.
Salgado joined Alligator Records in 2012, debuting with the award-winning, critically acclaimed Soul Shot in 2012 followed by The Beautiful Lowdown in 2016. Salgado won three 2013 Blues Music Awards including the coveted B.B. King Entertainer Of The Year. He also won for Soul Blues Male Artist Of The Year, and for Soul Blues Album Of The Year. In 2017 Salgado won three more Blues Music Awards: Soul Blues Album Of The Year for The Beautiful Lowdown, Song Of The Year for Walk A Mile In My Blues and Soul Blues Male Artist Of The Year.
Salgado and Hager have performed at Portland's Waterfront Blues Festival, The Chicago Blues Festival, The Tampa Bay Blues Festival and Canada's Tremblant Blues Festival and on the Legendary Blues Cruise. Salgado has also performed at The San Francisco Blues Festival, Memphis' Beale Street Music Festival, Denver's Mile High Blues Festival, as well as in Canada, England, throughout Europe, Brazil, Chile, Panama, The Philippines, Thailand and Hong Kong. Blues Revue, describing Salgado's performances, declares, "He starts at excellent before segueing into goose bumps, ecstasy, and finally nirvana."
Along with his accolades, Salgado is no stranger to adversity. During his career, he has overcome multiple health challenges, battling back from liver cancer in 2006 and lung cancer in 2008 and 2012. In March 2017 he underwent quadruple bypass surgery. Now he is back on the road, revved up and firing on all cylinders, performing with his band and as a duo with Hager. His resilience can be heard—and felt—on I Will Not Surrender, Rough Cut's lead track.
With Curtis' inspired singing and world-class harmonica playing and Alan's spellbinding guitar, Rough Cut is the album Salgado and Hager have always wanted to make together—soulful, sparse, haunting—a blues lover's dream come true. The music is a moving exploration of the joyful, emotionally uplifting power of passionately played and soulfully sung acoustic blues. They'll perform together as a duo both on their own and during Curtis' full band shows, giving their fans a taste of what Alan calls "American Classical music." "This type of music moves us the most," says Salgado. "You believe it when you hear it."