Eugene, Thursday, January 4, 1979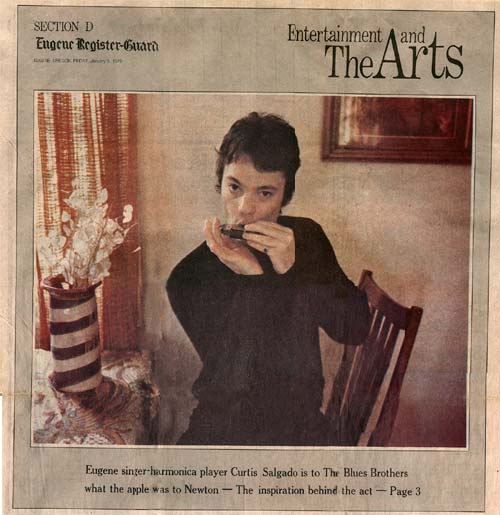 When Eugene musician Curtis Salgado taught Jhon Belushi the blues, he probably didn't think his looks and his music would be the basis for a hot new comedy routine
The birth of the Blues (Brothers)
The night was cold and wet, and John Belushi was bored.
Tired of hanging around the house during the filming of "National Lampoon's Animal House," Belushi went to the Eugene Hotel lounge for some laughs. But once there, the comic actor became quiet as he was mesmerized by a dynamic 25-year-old Eugene blues singer-harmonica player named Curtis Salgado.
Salgado's music invigorated Belushi, who not only liked it but saw in the makings of an off-beat comedy skit about a blues band for the "Saturday Night Live" television show. Belushi asked Salgado to teach him all he knew about the blues.
Since that chance meeting in October 1977, Belushi and another "Saturday Night Live: performer Dan Aykroyd, have created an act called The Blues Brothers. Propelled by television appearances and concerts with comedian Steve Martin, the act has become one of the nation's hottest new attractions – with T-shirts, buttons, a record album, and plans for a motion picture.
Belushi gives all the credit to Salgado.
"Curtis really helped me out," Belushi says over the phone from his New York City office. "I owe him a lot." Belushi feels his debt to Salgado so deeply that he insisted that the young musician's name be included in the recent cover articles on Belushi in Crawdaddy and Newsweek magazines, and he dedicated The Blues Brothers' album, "Briefcase Full of Blues," to him.
If the Blues Brothers catches on, Salgado will have been responsible for a major item of pop culture.
If, as a result, traditional blues itself catches on, Salgado will have played a significant role in affecting the direction of American popular music.
"Sometimes when I think of this Belushi thing and The Blues Brothers I don't know what to think," Salgado says, "I get totally blown away." Salgado, who plays with the Robert Cray Band, recalls Belushi as just another face in the crowd, even when he was told the comedian wanted to talk to him. Because the name didn't register, Salgado continued to perform. During a break, he wandered over to Belushi's table, and brashly said, "I hear you want to meet me." Belushi at that point feeling like a groupie was taken aback.
"He didn't know who the hell I was," Belushi says. "Someone said, "That's John Belushi.' He said, 'Oh, sure, man.' We got to talking and I said how much I liked him. I don't think he believed it was me. I don't know whether he didn't believe or didn't care. I'd like to say he didn't believe, I'd hate to think that he didn't care.
"He's got a lot of appeal in terms of star quality and charisma on stage. He reminds me a lot of Dan Aykroyd. That was the first thing I noticed. He had that 'special thing.' You know, that's rare in performers." After the show, Belushi and Salgado talked all night.
"Belushi just opens up, Salgado says. "I get carried away with blues things and pretty soon, hey, yeah he's into it. Pretty soon I'm going over to his house and turn him onto some records. Belushi says Salgado entered his life at the right moment. "I was kind of sick of rock and roll and I hated disco so I needed someplace to go. I hadn't heard much blues before. It felt good."
When Salgado went to Belushi's rented house, he found the comedian's taste ran toward Led Zeppelin and other hard rock bands. "I brought him Floyd Dixon, Charles Brown, and Johnny 'Guitar' Watson. Just a mess of the tastiest stuff I had, "Salgado says.
"He says he's going to have Ray Charles on 'Saturday Night Live', I said, 'You ought to get Ray Charles to play saxophone.'  "This is where I began to realize a craziness. He comes back (from New York) after 'Saturday Night Live', which I did not see, and he tells me, ' I went there and played a tape for Ray Charles and I asked him to play saxophone. He hadn't played in three years. But he did.' Then I thought, 'This is weird.' It's like, I caused that."
Belushi says the first song Salgado played – Floyd Dixon's "Hey, Bartender" – had an enormous impact on him.  He quickly learned the lyrics and performed it with Salgado one night at the Eugene Hotel. "He sort of whipped out his Joe Cracker imitation," Salgado recalls. "Then the next time we played with him (a couple of weeks later) he didn't do that.
He didn't sound like Floyd Dixon or really do it very bluesy – he's not a blues singer – but it was passable."
After the "Animal House" filming ended, Belushi went back to New York. He and Salgado kept contact over the telephone. "This is where it got scary," Salgado says. "He calls me up and says, "Curtis, we're doing The Blues Brothers on 'Saturday Night Live.' We're going to mention your name. It'll be at the start. It'll be a Don Kirschner lookalike and he'll come on and talk about the blues and he'll say 'Curtis Salgado'. 'I tried to get him to say, 'Of the Robert Cray Band' but he wouldn't. I'm always going for it."
One reason Belushi called was to ask Salgado for the humorous lyrics he uses at the end.
"I Don't Know," Salgado dictated them over the phone, and Belushi used them the following week on national television. Salgado watched the program in a Corvalis bar where he was working. He was surprised that Belushi was not only using his material but was wearing dark-rimmed sunglasses and sporting a tuft of lower lip hair similar to his. The skit got big laughs and eventually landed Belushi a contract with Atlantic Records.
Salgado says five of the 10 songs on the album are ones he taught Belushi.
Salgado has a mixed reaction to The Blues Brothers. He is pleased for Belushi's success and happy that the blues are getting more attention, but naturally, he is disappointed that he isn't the one making the breakthrough.
"Those guys aren't blues people to me. They're guys putting on, Salgado says sharply. "Listen, if you're in that kind of situation, you can hire a great band behind you. And they hired a killer band. Donald 'Duck' Dunn. Steve Cropper – those guys have played behind Otis Redding, Sam, and Dave, Johnny Taylor. They're very heavy rhythm section.
"Anybody who could carry a tune could have sung in front of that band and sounded pretty good." Some critics believe the birth of The Blues Brothers may lead to a rebirth of the blues. Belushi agrees. "I figured if it would excite me, a normal person, there must be a lot of disgruntled people out the who were also tired of rock and roll music and disco music who would feel the same way," he says.
From the start, Salgado says he had an inkling Belushi was interested in the blues for more than its musical values, so he lobbied hard for him not to make a joke out of it. "I've tried to represent him (Salgado) in the most respected way possible." Belushi says, 'Being from TV and being known for comedy, it's hard to just sell it musically. That was real difficult to do, but I promised I wouldn't mess with it.
"I've tried to keep the dignity of the music and the performers intact. I don't want to package it. I feel about it the same way Curtis does." Although Salgado obviously has a great ally in Belushi, the Williamette High School graduate says his future his uncertain. He says he will continue with the Robert Cray Band, hoping it can land a major record contract. Belushi says he intends to use Salgado- and possibly the band- in The Blues Brothers' Film as either a performer or an adviser.
"He's got the dedication, " Belushi says. "He doesn't care so much for himself, either. He cares more for the music, which is one thing I admire in him. I'll do anything for Curtis I can." Salgado seems overwhelmed by all this. "Seriously, man, this is blowing me away, " he says. "I didn't expect anything like it. I guess I'm lost in one world or something. I dig the music – and that's what's important to me.
"You see, I want to put the blues out there. I want to put Robert (Cray) out there. I want to put the whole band out there. I want to put other bands out there. "In a way I guess I am part of putting at least the word "blues" on the front of Crawdaddy and mentioned in Newsweek. The Blues Brothers T-shirts and buttons have got Hollywood people freaking out over them.
That's a little bit of help. And The Blues Brothers are going to have a hit record.
"Now, let us have a shot at it."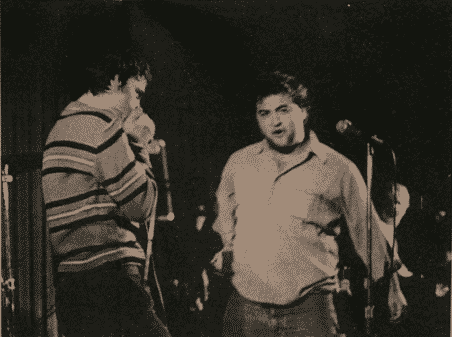 Belushi (right) credit Salgado with bringing him the blues at the Eugene Hotel in 1977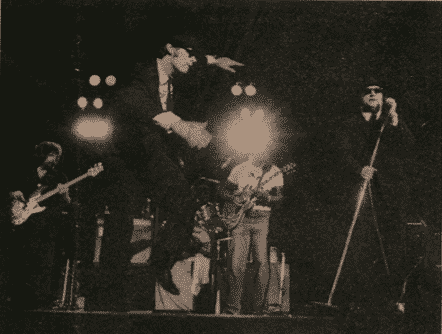 Now, Belushi says partner Dan Aykroyd reminds him of Salgado
Who's copying whom? salgado was surprised to see Aykroyd and Belushi wearing dark glasses and lower lip whiskers like his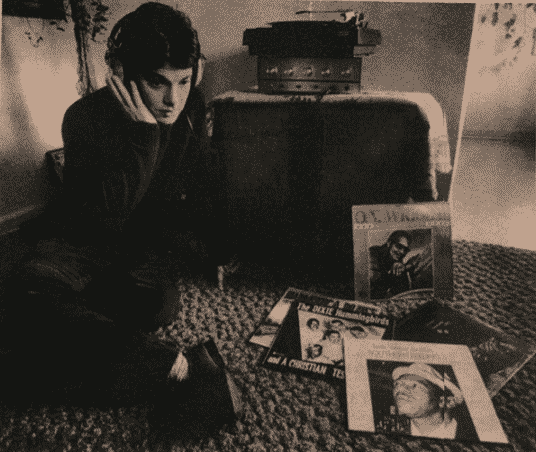 At home in Eugene, Salgado listens to blues greats who inspired him